Gentle Latte Foundation

for

light complexions
Shade is a warm khaki - samples available​

What is a good Foundation for rosacea?

A good foundation for rosacea is one that provides the desired coverage without aggravating your condition. An even better foundation is one that not only looks natural, but also provides inflammation and redness reducing properties. RosaSkin has formulated a foundation with ingredients that are therapeutic for rosacea sensitive skin.

Gentle Latte Foundation is formulated with Organic Jojoba oil, a wonderful moisturizing component that doesn't clog pores and is a friend to rosacea skin because of its non-tacky, non-oily and non-greasy, dry softening to the skin. We've also added small amounts of Green Tea and Willowbark extract to aid inflammation and blemish control. It also contains a combination of DMAE and MSM making it particularly beneficial for sensitive, irritated, dry, oily and acneic skin.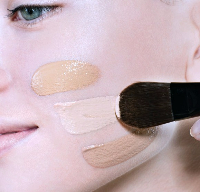 .9 oz $19.95
2 oz $42.95 (in glass pump bottle)
Sample $5.95 ​​